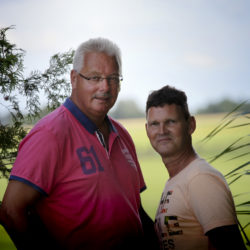 De Heerenborgh is an attractive caravan and camping park between Groningen and Drachten in the North Netherlands, in the region called "Westerkwartier", in a location where peace, quiet and seclusion are natural features. We can offer about 20 pitches for caravans and tents, many of them connected to electricity and water, surrounded by woodland and coniferous trees. We also have caravans for hire.
The site has a sanitary unit with two toilets and a shower cabinet and wash basin, both with hot and cold water. The use of the shower is free.
The park is situated on Niekerkerdiep, a canal with acces to a canoe route. There is a canoe for free for tourists who would like to discover the local landscape of small streams and rivulets from the water. But the surrounding countryside also offers attractive possibilities to those who prefer to explore it by car or by bicycle.
Niekerk is less than fifteen motor minutes away from the pleasant university city of Groningen, with its pavement cafes, bars, discotheques and saunas.
Caravan und Camping park "De Heerenborgh" offers unique opportunities for a (short) holiday and is a perfect starting point for trips in the northern provinces.
We have Wi-fi for free.
Prices
Per single person per day € 16,–
Electricity per day € 3,–
Canoe for free
Caravan rental
Caravans, fully equipped with stove, fridge and cable-t.v.
Guests to bring their own bed linen and towels
Price all-in per week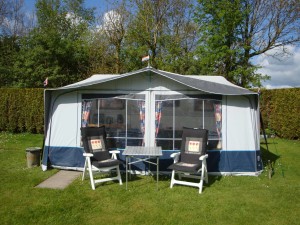 Dethleffs € 375,–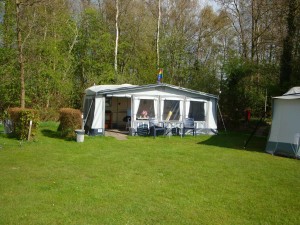 Tabbert € 450,–
Price all-in per weekend
Dethleffs € 155,–
Tabbert € 180,–
Please contact us for special arrangements to suit your personal needs.
Prices rentals apply to 1 or 2 people
How to get there? ( N 53° 13′ 56" , E 6° 21′ 15")
Camping site De Heerenborgh is in Niekerk between Zuidhorn and Grootegast in the North Netherlands.
From Groningen: In Groningen, follow the signs to Zuidhorn. After Zuidhorn, follow the signs to Niekerk. After the gasstation in Niekerk turn right into Havenstraat. The camp site is at the end on your right.
From the west: Leave the A-7 (Heerenveen – Groningen) at the exit Boerakker (and other places)/ Drive past Boerakker to the end of the road in the direction of Niekerk/Oldekerk. After the supermarket in Niekerk, turn right into Havenstraat. The camp site is at the end on your right.
Attention: If you use a navigation system it is better to use the address Havenstraat 30, 9822 AG Niekerk (Grootegast), otherwise you will not arrive at the right place.
For further information and bookings
De Heerenborgh, Caravan and Camping for Gays only
Niekerkerdiep 1
9822 AH Niekerk (Westerkwartier)
Tel: 0031 (0) 594503446
E-mail: info@deheerenborgh.nl
---
Regulations Gay Camping "De Heerenborgh".
Arrival and departure are permitted between 10:00 AM and 10:00 PM. Between 10:00 PM and 08:00 AM it shall be quiet.
Use the camping premises and the facilities with care and respect. Keep the premises clean and tidy. Please observe the separate waste disposal in the containers. Please put household waste into tied-up grey waste bags and not separately in the container. Please act in an energy and environmentally conscious manner; do not leave electric equipment switched on unnecessarily.
Motor vehicles are not permitted on the lawn. Cars can be parked in the parking spaces between the yellow lines. If these are occupied, please park at Havenstraat, past the farm, at the wide stretch. Ask your visitors to park there as well. The caravans can be set up with our "dissel-lifter".
The use of ground sheets, (agricultural) plastic etc. is not permitted. So-called punctured ground sheets are permitted, on the condition that no other materials are placed under them.
Nudism is allowed. Please ensure though that you are not visible from the pasture or the public road. Therefore put your clothes on when you go to the parking spaces.
Public (visible to others) sexual acts are not tolerated!
Dogs are allowed on the condition that they are kept on a leash. The dogs should be walked outside the camping premises. Please remove dog faeces on the premises.
The toilets are connected to a pressurised sewer. Therefore non-degradable items are not to be deposited in the toilets. Condoms in particular cannot be processed by the pump; please do not deposit them in the toilets!
The showers are exclusively intended for taking a shower. This is permitted from 06:00 AM until 24:00 midnight. Between 24:00 midnight and 06:00 AM you cannot and may not use the showers; there is also no hot water during these hours.
Visitors are allowed (men only). Each visitor should be registered as soon as possible and is to pay the visitors' rate per visit.
The possession and use of drugs is expressly prohibited at De Heerenborgh. Upon discovery or suspicion thereof you will be denied access.
Of course you can always contact us about uncertainties, questions, problems, wishes, remarks, etc. Please respect our privacy as well though!